Hire Your Own Inspector
Deliver the Best-in-class Inspection Services for the global brands, retailers, sourcing offices and their suppliers.
The New Normal for Inspection
WHY USPECT?
Choice of your own Inspectors

Choice of Your Own Inspectors
You can decide your own inspectors based on their profile including years of experience, industry expertise, proximity, availability, rating & client's reviews, etc. instead of just letting "somebody" to do the inspection.
Experienced Inspectors
You can trust the inspectors as all of them on our platform are guaranteed with more than 3 years inspection experience and have passed our examination; freshmen or less experienced will never be considered.
Insector rating and client review
You can give score and comments to inspectors, where it will be openly available under the inspector's profile; inevitably it drives the quality work of inspectors.
Remote Inspectors monitoring
You can have the visibility of the inspectors to "see" their presence in the factories and track their activities on the spot to avoid "fake" reports.
Direct communication with Insector
You can directly enquire for report clarification to the exact inspectors who work on your products; no more ping pong emails with an unresponsive customer service/report team.
Public and private protocols compilance
You can add your own tests / requirements to further strengthen and align with your risk control, in addition to the international / industry inspection protocols.
Speed reports
You can receive the inspection reports as soon as the inspectors leave the factories so that you can take immediate actions for correction.
Business model
You can pay at a very competitive price for the inspection service as we pay the majority of the money to inspectors and only keep a small token for sustainability.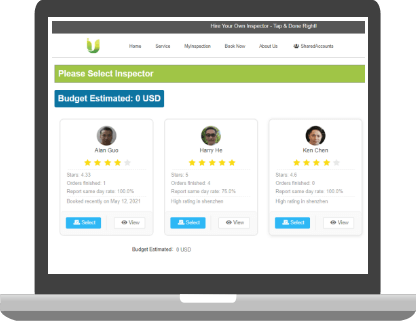 It is just simply tap and done to create the inspection booking and select the inspectors on our online platform.
01.
Sign up for free account and log in on the USPECT platform.
02.

Fill in the basic information of the inspection; the system will automatically recommend a list of inspectors.
03.
The selected inspector starts service; you then receive the report as soon as he leaves the factory.
Our inspections services safeguard the quality of your products at various stages of the manufacturing process and protect your brands.
Perform before production begins and up to 20% are produced to assure consistent quality throughout production.
Perform when 100% of products are finished and at least 80% of products are packed into cartons to avoid products returns or reworks.
Perform factory assessment and suppliers audits to ensure the potential / existing suppliers deliver high quality products.
Perform when 20% – 30% of products are produced to help find quality issues at early stage to avoid further wastes.
Perform at the factory or forwarder's premises to ensure all products are loaded into the container correctly and in good condition.
OUR INSPECTORS
OUR INSPECTION TEAM
We are proud of our quality professionals who are strictly selected on our platform and dedicated to reducing product risks in various industries. You can select the inspectors and totally trust on them as if your hired staff.
ENTRY REQUIREMENT ON OUR PLATFORM
INDUSTRY & PRODUCT EXPERTISE
Can't find your inspector?